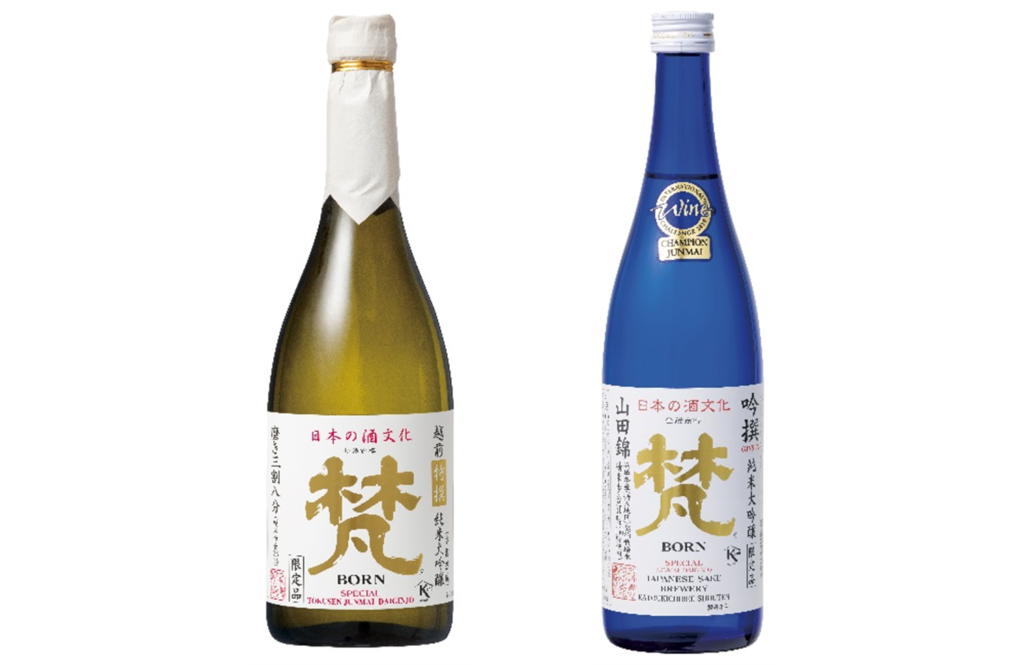 BORN is brewed in Sabae city, Fukui.
Where the Name BORN came from
In ancient Indian written language Sanskrit, the word "Bon (梵)" means "seeking the real thing" or "truth".
Katoukichibee Shouten was a village chieftain and money changer for many generations, but at the end of the Edo period (1860), the company started a sake brewing business with the aim of making the local people happy by replacing their annually taxed rice with higher value-added sake.
The brand name at that time was KOSHINOI (sake made from natural water from Echizen wells). And only the best of their sake bore the name BORN.
In 1966, all their brands were unified into BORN and was officially registered in 1968. The typeface of BORN attached to the registration application form was handwritten by the tenth generation of the brewery.
The original romanization of the brand name was "BON", which was taken from the French word used in the phrase "C'est si bon!" However, the name was changed to "BORN" in 1976 by Mr. Atsuhide Kato, the current eleventh generation head of the brewery, to express his wish that a bright future will surely come or be "born" to all those involved with BORN.
BORN from the Story
"Sake is born from the story. Likewise, every BORN has a great story to tell," Mr. Kato says.
You may have noticed that BORN has a bottle, label and outer box with a distinctive design.

For example, "BORN: Dreams Come True":
This sake was created with the image of a trophy dedicated to the winners in life; those who have achieved their goals and fulfilled their dreams.
The shape of the bottle is thin and easy to grip at the bottom, giving the image of a trophy that can be held up in triumph.
Since there is "only one" winner in life, they have insisted on making the capacity of the bottle one liter.
When the bottle is empty, it is an ordinary dark-colored bottle, but when the contents are filled with the sake, the bottle glows a seductive, austere golden color.
It has been loved by many VIPs from the political and business worlds and also by athletes crowned by victory. Recently, it was presented to gold medalists at the Tokyo Olympics, and also to Japanese athletes who set new records in the MLB in the United States.
Now, many people seek it out as a "prayer sake" to make their dreams come true. Note that not the singular "a dream" but the plural "dreams" is used for naming to make many dreams come true, and the package is golden and shiny.

This is BORN: KANTSUBAKI (Camellia in the winter), imagining a dignified, noble, healthy, and strong-minded woman.
The wrapping paper is handmade Echizen Washi. The label depicts a single camellia flower blooming with dignity in a snowy garden in Echizen's cold winter (a watercolor painting by the 11th generation head of the family).
It takes about 10 years to commercialize a distinctive story. All the products of BORN carry the message of the brewery that they want new brilliance to continue to be "BORN".
About Katoukichibee Shouten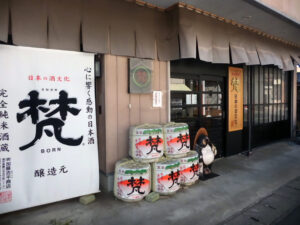 History
The company was founded about 300 years ago as a money changer. Later, in 1860, the company began a sake brewing business.
The Yoshie Domain, later absorbed into the Fukui Domain (present Yoshie-cho, where Katoukichibee Shouten is located), has been a town rich in history and nature, such as in the case of Yoshie Shrine, dedicated to the water god of the Echizen Matsudaira family. In the mid-Edo period, playwright Monzaemon Chikamatsu, considered the Shakespeare of the Orient, lived here until he was 15.
Katoukichibee Shouten has cherished its people and the culture for a long time.
BORN was highly reputed locally and won the top prize at the Hokuriku Sake Competition for four consecutive years from Taisho to Showa Era, and was the first sake from the region to be selected for the Showa Emperor's Imperial Enthronement Ceremony. Since receiving this honor, it has been adopted on many important national occasions in Japan up to the present day.
At the same time, it has won numerous top awards at international sake competitions over the past few decades.
Reasons to keep entering the competitions
However, no matter how many awards BORN won, there were always people who criticized it. Mr. Kato then thought "why not win prizes at all the sake competitions where commercially available sake could be entered?", and has continued entering the competitions every year for more than 10 years.
"Some of them may not win prizes, but all you have to do is find out what was wrong about it and fix it. If you fear the risk of entering a competition and dwell on past glory, you will never move forward. The quality is what counts, and every year is a challenge," says Mr. Kato.
Thanks to his efforts, BORN has won and continues to win numerous top prizes over the past 10 years. Since then, criticism has no longer been heard.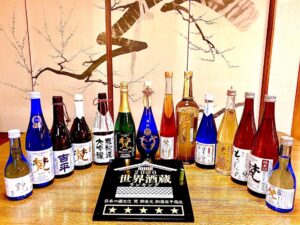 No Additives for the Least Burden
"Sake is a great item for the enjoyment of life and stress relief," says Mr. Kato. He believes that it is their mission to make sake that not only tastes good but also puts as little stress on the body as possible, so they have decided to make pure sake without using any additives.
The sake that people drink when their minds and bodies are tired but with the least burden on the body; is what Katoukichibee Shouten wants to pass on to the next generation.
A Questioning Attitude
"I strongly feel that Katoukichibee Shouten is supported by the sake rice farmers with whom we have contracted since long ago, as well as by all of our employees. And as we constantly strive for improvement, the most important thing is to ask ourselves whether or not we are making sake that we can be satisfied with; sake that people say is a local treasure and a source of pride. If the local people are truly happy with our sake, we can sell it with confidence anywhere in the world," says Mr. Kato.
Currently, the 12th generation head (eldest son and vice president) is making sake together with the toji (master brewer).
All of the text, watercolor paintings, and designs on the current product labels are the work of the 11th generation head of the family himself.
Sake to delight people
"On a sunny day such as a wedding or other celebratory occasion, everything is happy. On such occasions, whatever you drink tastes good. But such days don't last forever," says Mr. Kato.
What he wants to make is a sake that people want to drink as a reward for their own efforts, even if no one around them notices - a feeling of "Yes! Today is a BORN day." His goal is to make sake that will delight people from the bottom of their hearts.
To achieve this, they are constantly asking themselves if they are doing their jobs in a way that will leave positive memories and impressions.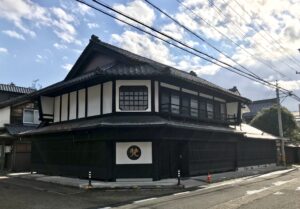 Finally, Mr. Kato taught us the best way to drink BORN.

If you are not a strong drinker, BORN: GOLD (Junmai Daiginjo) may be the best choice. Enjoy it crisply chilled in a large wine glass.
For those who love sake, BORN: Unfiltered, unpasteurized, Yamada-Nishiki, Junmai-Daiginjo is best, chilled to about minus 5 degrees Celsius and poured directly into a shot glass.
Or, if you chill it to -4 to -5 degrees Celsius, pour the sake into a glass filled with a large piece of rock ice, and add a few drops of sudachi or kabosu (a type of citrus fruit) for a great sake cocktail. Give it a try!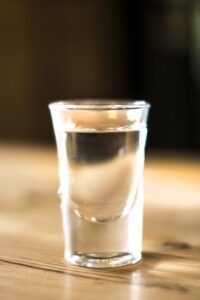 But, he also said, "What really tastes best is alcohol that you drink when your body craves it. Limit yourself to just one glass. There is nothing better than that, because if you drink more, you will soon get filled up."
Information known only to those who read this article
If you see the Michelin Guide Tokyo Edition 2022/Osaka/Kyoto Edition 2022, turn the cover page. On the first page, you will find the stunningly beautiful BORN: CHOGIN.
It is the ultimate Junmai Daiginjo of BORN, with a rice polishing rate of 20% and aged for 5 years at -10 degrees Celsius.
The bottle is Venetian blue.
The golden phoenix and golden mizuhiki (strings) with chrysanthemum knot on it represent the country of Japan, and the sealing paper has a pattern of chrysanthemum, the national flower of Japan.
This sake of BORN was designated as the sole official supplier by the Michelin Guide Headquarters as a representative of Japan's sake.

---
Interview Date: April 19, 2022 by ZOOM
Interviewee: Mr. Atsuhide Kato, President/the 11th generation head of Katoukichibee Shouten
Image Data Presented by: Katoukichibee Shouten
Interview Note: Mr. Kato said, "If we only talk about the origin of the brand name, it will only take about five minutes." Nevertheless, he spoke for more than an hour before I even asked him about it. Mr. Kato, who was scheduled to give a lecture after the interview, gave me almost a full lecture as well. I was the only audience member, having a luxurious time.
What impressed me most was not only his passion for sake making, but also his strong love and pride for his hometown, Sabae City. This was evident through his talks. Sabae is known as the "holy land of eyeglasses*". The red eyeglass pin on Mr. Kato's chest was a testament to this.
Note: Sabae City in Fukui Prefecture is known as the "City of Glasses. Fukui Prefecture accounts for 96% of the total domestic production of eyeglass frames, making it one of the three major eyeglass producing areas in the world, along with Belluno in Italy and Shenzhen in China.
Ref: Fukui Optical Association HP
https://www.megane.gr.jp/